Self Care & Aromatherapy Eye Pillows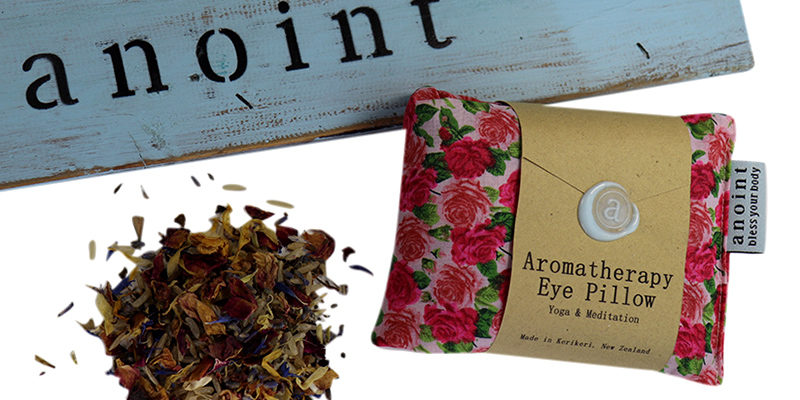 Are you struggling to switch off or feeling a little stressed or fatigued? We have the perfect self-care remedy. Gently lay an Anoint Aromatherapy Eye Pillow over your eyes and take a little break.
We understand it has been an emotionally and financially difficult time for everyone. In our bubble of four (my husband & I plus our son and daughter) we have tried to incorporate a little self-care in every day. Just simple things like going out for a walk, playing family board games, watching movies and cooking meals together. We also celebrated our first son's 13th birthday with some hilariously competitive family games we found on YouTube. Search for 'Cup Games' if you're in need of some entertainment!
On a more serious note, getting to sleep and staying asleep has certainly been a challenge in our house. Our business has been significantly affected and to be honest it has been very difficult to switch off at night when thoughts are racing and everything starts to feel a bit overwhelming. We are lucky to work from home and with an extensive range of ingredients (and time on my hands for a change) it was time to set about finishing a new product called an Aromatherapy Eye Pillow that has been in the development stage for little while.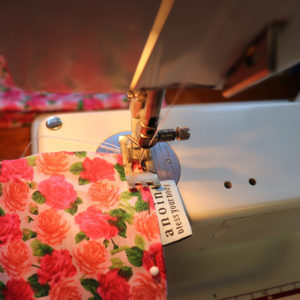 What is Aromatherapy Eye Pillow?
Aromatherapy Eye Pillows are designed to help to still your mind and soothe your eyes. They are made from a fabric pocket (2 pieces of our gorgeous floral soap fabric) sewn together and filled with a mixture of Botanicals, Essential Oils and Brown Rice.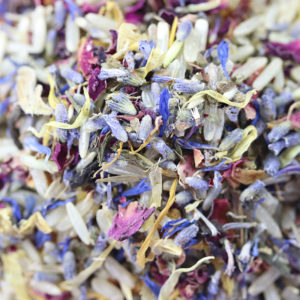 What are the Botanical Ingredients?
The botanicals are the same blend we use in our Aromatherapy Facial Steam and include Rose, Calendula & Cornflower Petals, Rose Hip, Lavender Rubbings, Lemon Balm and Jasmine Green Tea.
Which Essential Oils are used?
We have included a blend of Essential Oils including Rose Geranium, Lavender, Ylang Ylang & Bergamot for their calming and relaxing aromatherapy properties.
Does an Aromatherapy Eye Pillow block out light?
The brown rice adds weight to the eye pillow and means you can gently fit it to the contours of your face so it completely blocks out any light. Blocking out visual stimulus sends a message to your brain that it is time for your mind to be still. But that's not all the addition of the brown rice does.
What are the benefits of a weighted Eye Pillow?
The sensation of light pressure resting on your eyelids just feels SO good! I was really intrigued as to why this was and decided to do some research and found it is all to do with the Vagus Nerve.
The Vagus Nerve
Applying light pressure to the eyelids is believed to trigger the vagus nerve and create a reflex that lowers your heart rate and regulates your mood. The official name is the 'oculocardiac reflex' and it is believed to transmit into the rest of the muscles in your face and even into your shoulders. It is said to release a neurological signal that gives your body and mind permission to relax.
When is the best time to use an Aromatherapy Eye Pillow?
You can use your Eye Pillow at any time to help calm feelings of stress. Using for ten minutes at bedtime can support falling into a deep sleep.  Aromatherapy Eye Pillows can also be used for yoga and meditation to help to regenerate energy.
Can you warm or chill the Aromatherapy Eye Pillow?
Aromatherapy Eye Pillows can be used warmed or chilled. Using a warmed Eye Pillow helps with relaxing and refreshes the eyes. Chilling your Eye Pillow cools the eyes and can help with easing headaches and migraines.
Testimonials:
We had a couple of Anoint followers test out Aromatherapy Eye Pillows and here's how they enjoyed the experience:
"I absolutely LOVE all of Anoint's products, but I am super excited about their new Aromatherapy Eye Pillow. I love resting it on my eyes while I relax with an audiobook at the end of the day. A bonus is the lovely aromatherapy smell it leaves on my pillow at night (I leave it under my pillow during the day), and it aids in giving me a peaceful sleep at night." Anita
"The soothing aroma and the gentle soft feel to my eyes calms me down, helps me to forget all the stress, and to embrace a wonderful night of deep sleep. I also use it sometimes during the day after staring at screens for far too long. I lie down on a sofa, cover my eyes with the Anoint Eye Pillow. It feels like a portal to a world of peace and quiet" Vera
Aromatherapy Eye Pillows are a small self-care routine you can add into your day to help switch off, and relieve some of the stress and tension we have all experienced in this difficult time.
Erica x